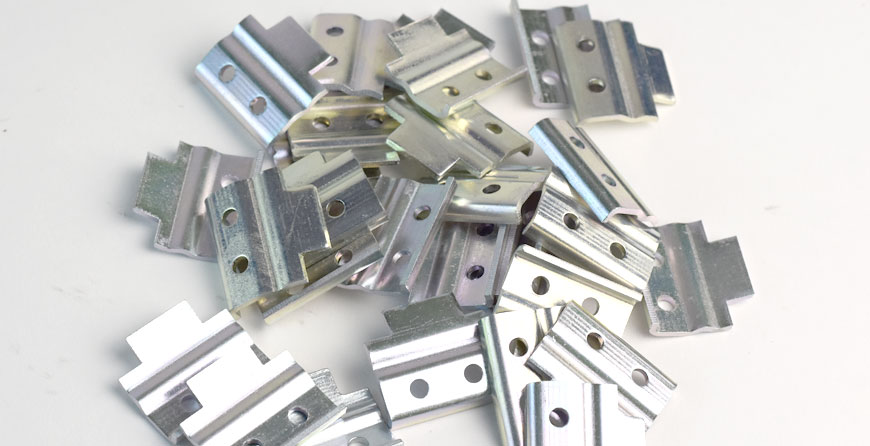 California Sealing Solutions is a distributor of precision stampings in all shapes, sizes, and materials. We strive to consistently meet and exceed the needs and expectations of our customers. At California Sealing Solutions, we work to continuously improve our production activities, enhance our position in the marketplace, and emphasize our Overseas as well as U.S. made products.
Stamping is a manufacturing process that utilizes coiled strip metal that passes through a series of progressive dies, punches and forms which produces a finished part. There are several different production metal stamping machines used in the industry; Progressive punch presses and four-slide or multi-slide machines.
Stampings (also known as pressing) includes a variety of sheet-metal forming manufacturing processes, such as punching using a machine press or stamping press, blanking, embossing, bending, flanging, and coining. This could be a single stage operation where every stroke of the press produces the desired form on the sheet metal part, or could occur through a series of stages. The process is usually carried out on sheet metal, but can also be used on other materials, such as polystyrene.
Short-run Stamping Processes
CSS, Inc's stampings precision, short-run stamping process utilizes a unique tooling method where hardened tooling components are used in conjunction with standard holders and fixtures, thereby taking the place of conventional die sets.

CSS, Inc's offers short-run stamping method offers quick turnaround times and is ideal for faster delivery of projects that take longer or do not have a high volume minimum. Short run stamping is the best alternative when it is not possible to invest a large amount of money in costly progressive tooling.

CSS, Inc's precision manufacturing covers a complete range of sizes up to 12″ x 12″ (flat) with thicknesses from .005 to .134 and draws of up to 3″ deep and 8″ in diameter. CSS, Inc offers many of the latest technologies and precision metal stamping manufacturing concepts to focus on providing you with quality stampings. CSS, Inc eliminates constraints to meet your delivery requirements with flexible Just-In-Time (J.I.T.) programs.